We bought a new car! Not an everyday experience for us. And certainly not an easy one. I do a lot of research and test driving before making the big decision. And we never end up with what Margo thinks she wants! She thought that she would get a Buick Lacrosse as the Buick Enclave has been such a pleasure to own. But after many test rides I talked her into driving the Chrysler 300, and we were both blown away. What a dream to drive. Quiet and smooth. We had to have one! They had a John Varvatos Luxury Edition in the showroom in jazz blue and dark mocha interior. We both loved the color combination and could not stop looking at it! LOL.
Of course that particular car had to be missing an option that we wanted so the search for the car and the right price was on! As luck would have it they stopped production on that model. But we found one in North Carolina. Then they started production again, but with a price increase. We decided that the one in North Carolina was looking good. We ended up in Georgetown DE at Megee Motors. We struck a deal and the car was on the way!
We were not prepared for what happened when we went in to pick up the car. We were shuttled in to a room and offered a ton of extras that we surely needed. NOT. This in my opinion is not a good way to do business and I was turned off. Megee Motors should have given us advance notice and time to look over these expensive "extras". But we are still excited, our new car is shining, and we are ready to hit the road!
We have had a lot of compliments on this car, even from the people at Megee Motors. Seems that this edition of the Chrysler 300 is not that common. As a matter of fact, we have only seen one other and it was in the showroom in Salisbury MD.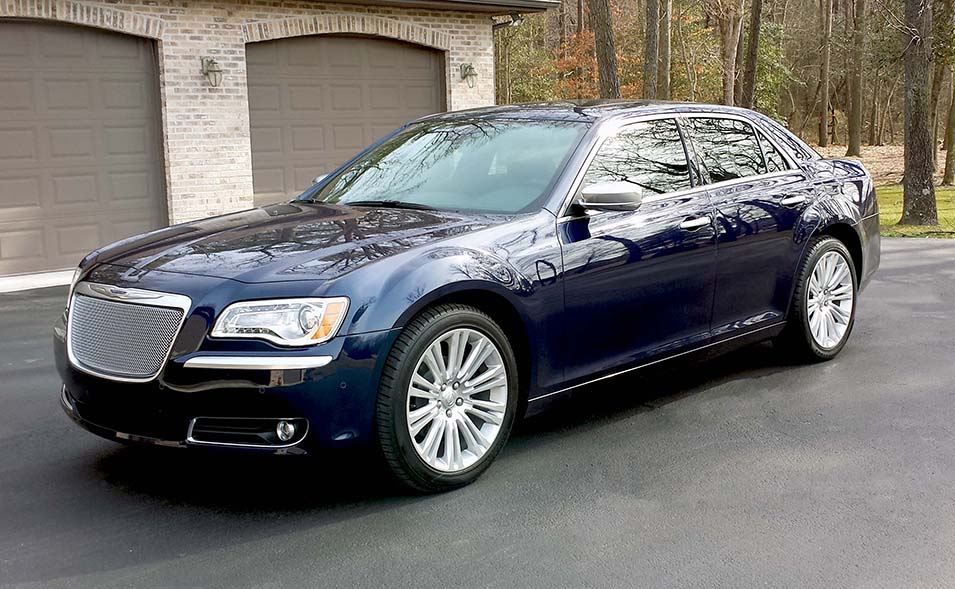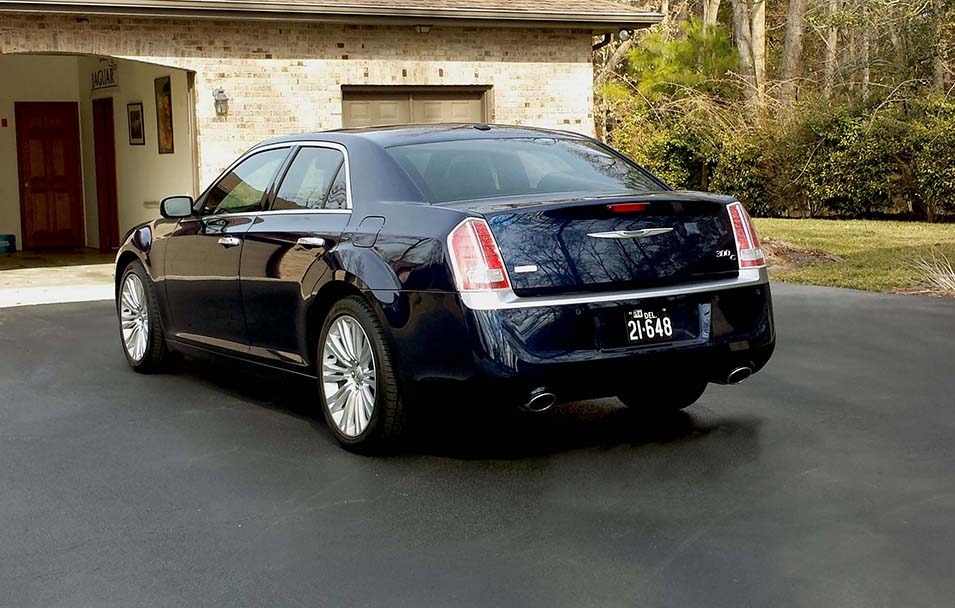 While looking for a noise in the new Chrysler 300C, I discovered rust under both front seats. I thought this was odd, and sent pictures in. I then brought the car to Megee Motors in Georgetown DE and was told that it would be repaired under warranty. I was also told that I would be provided with a ride home, even after I mentioned to Matt that I lived in Laurel.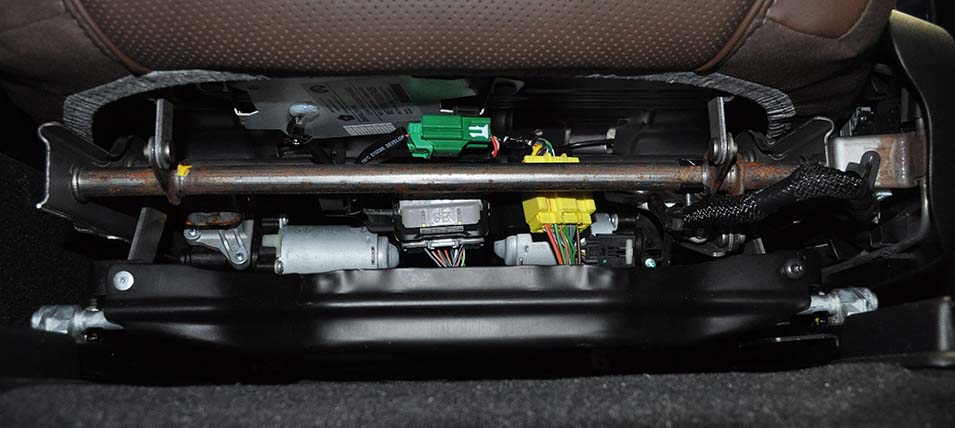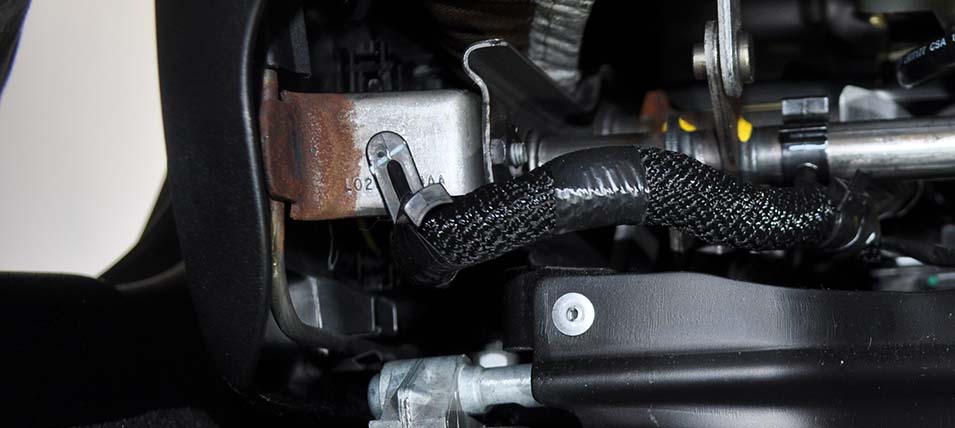 We had our driveway repaved the day before the appointment and left the Chrysler outside for the appointment. Since we were told a few hours for the repair, we thought that we would be OK. We arrived in plenty of time for our Tuesday July 22 at 7:30 appointment. After signing the paperwork they said that they would call us when it was finished. I explained that I was told I would be provided with a ride home. The 2 service department employees just looked at each other and said that this must have been something set up by Matt. They then told me that the man who does this does not start work until 8:00? So we sat in the waiting room for a half of an hour. Sure enough, right around 8:00 we were told that our ride would pick us up right outside of the waiting room door. And so here comes OUR car, with a technician in training driving. He takes us home.
Now I have to tell you that I really am not knowledgeable about automotive service departments. But I do know a little about time. My wife and I rushed around getting ready for a 7:30 appointment, and I seriously doubt if my car ever got into the shop before 9:00. If this is standard operating procedure,  I have no idea how Megee Motors stays in business. But this was a serious waste of our time!
So shortly after lunch I get a call. I am thinking that we are on our way to get our car. And we have other things to do, so this is good. But instead we are told that this is a bigger job than anticipated and that the car would have to stay overnight. And of course my first thought is if they had started working on it at 7:30, would they have had time to get it done? But that ship has sailed and we are faced with another problem. We have no vehicle, as the other is in the garage and there is no way to get it out. So we were offered a vehicle to use, but they would be coming to get only me because it was a 2 seat vehicle. There goes any opportunity of us leaving the dealership and heading to another destination.
So now it is Wednesday and we get the call to pick up our car. Of course we already had other plans. My wife told them that we would be there before 5 to get the car. So after a little extra rushing around and rearranging, sure enough we arrive before 5. 2 girls go out to the loaner car at 2 separate times and then Larry goes out. He says to me did anyone say anything about putting gas in the loaner car? I said no, the girl says no, and Larry says neither did he. So Larry walks away, and returns shortly, and tells us to leave and he will take care of it? Gas, really? I hope that someone is keeping track of the miles my car has spent going up and down the highway for a warranty repair, and with MY gas!
Margo wants to drive the car, since it mostly makes "the noise" while she is driving. As soon as we get underway she noticed a red light on the panel. She thought that it was a seat belt light and asked if I had my belt secured. I said yes and leaned over to see the light. I thought that it was an airbag failure light. I told her to pull off of the road and turn the car off, and then turn it back on. No help, the light remained on. So we turn around and head back to Megee Motors. And even though I do not test drive repaired vehicles, I fail to understand how they could miss a glaring red failure light?
Larry comes out and checks the car and decided that he would have to keep the car overnight again, as it is too late to fix it today. So we went in to retrieve the keys to our loaner. The good news is that we don't have to redo any paperwork. So we just get in our loaner and head home.
So Thursday morning I am trying to plan my day to include yet another trip to Georgetown DE. I am thinking that my car would be in the bay and fixed ASAP. Finally just after 9:00 I called to see what was going on. I was told that it was getting ready for the test ride and that they would be calling me back shortly. That call came just after 11:00. "Your car is ready".
This time we know that we are responsible for putting gas in our loaner, since all of this is our fault. And while I can not be sure of this, it seemed as though the gas indicator went much farther above the "F" this time? At his point I don't really care. I just want my car back and to get home.
At no point in time did ANYONE express concern for my extra trouble, frustration, or the lack of professionalism that Megee Motors showed. The friendliest employee was the new cashier, who apologized for being new and treated us like valuable customers. And there were plenty of opportunities for this to happen. My feelings as a customer were that no one cared if I ever came back or was satisfied.
So on the way home from Georgetown my wife says that the seat feels loose. I have had about enough of this for one day, so I told her I would check it in the morning.
Friday morning I go out and check the seat. Sure enough it is loose. So loose that I can move the back of the seat and watch the bottom move. So I call Larry in service and tell him. Well guess what? He apologized! Really? That's all? He starts telling me how he checked it out. I am not really interested. I have to make ANOTHER trip to Georgetown! That is what I am interested in. He tells me that he will get it into the shop as soon as I get there. I tell him that I have other plans, and that I have seen enough of Route 9 this week. I tell him that I might bring in on Monday. I will check my schedule and let him know.
Here I am boiling and thinking about WHY I HAVE TO MAKE YET ANOTHER TRIP TO GEORGETOWN? So I call Larry and tell him that I want him to come and get this car, fix it and return it. After all, this was totally Megee Motors'  fault and not mine. He agrees, but says that he can't make it happen until Monday. I tell him to call me and let me know what time they will be here.
OK, so it's Monday. I am waiting for a call, because obviously I can have no plans. Larry calls at 9:25. They are on their way to get the car. But a slight change in plans. One man coming and will leave his vehicle here? So here we sit thinking that in a couple of hours we will be getting our car back. But instead, at 12:53 Larry calls. He says that the problem was more complicated than anticipated and they may need to keep the car overnight. Well I still have a life and must go away. So I tell Larry that I am going mobile, and he asks for my cell phone number?????? Really? I am not even going to count how many times he has called me on my cell phone.
We go out and run our errands. Then we eat dinner. The clock is ticking, but no phone call. I guess that they are keeping it overnight for sure.
So now it is Tuesday morning, a week from the original repair appointment. Right around 8:30 Larry calls. Your car is ready and if you are going to be home we will bring it over. No apologies, no excuses. A job that should have taken a few hours is finished a week later?
Problems happen. That is part of life. But for a service oriented company, it is a time to show off. A time to really impress the customer and have them spread the good word about you. I have been impressed with a lot of companies, and have even gotten more than I thought I was getting on numerous occasions. This was not the case with Megee Motors in Georgetown.
When I was working we were required to watch a video entitled "Remember Me". It was quite the eye opener and I always thought about it when I dealt with customers. And I can guarantee you that a customer never left me feeling the way that I feel after dealing Megee Motors' service department. Why? I think that it a personal thing. Something about pride and the golden rule. And I don't claim to know everything, but I do know that I will not be back. I also know that none of my friends or acquaintances will be there if they  talk with me first. And that is how free advertising works.
At the end of the day I still love my new car. But I can never go back to Megee Motors ever again. And it is really sad that I have to find another dealer to service my car.
I emailed my experience to 2 different places that I got from the Megee Motors website. No reply. I sent an email to Chrysler. I did receive a reply saying that they were sorry and that they had called Megee Motors and talked with Larry. Well that did a lot of good. Not! We still have not heard from Megee Motors in Georgetown DE.