I got so close on that last walkaround that I missed the pool!
Now I was never a pool person. We always had boats. The problem with boats is that everything has to be a certain way to go out and on that day when everything was perfect, you usually had something else to do!
The last year we had our boat I think that we took it out one time during the whole season. So we decided to get a pool and increase the use of our backyard. The great thing about a pool is that it is not a major production to use it. No preparation, you just jump in and enjoy! I sometimes jump in just to cool off after working in the yard.
I guess that it is easy to get a rectangular pool with a rectangular deck and a fence all around. But I could have no parts of that! In my normal fashion I had to have one that was unique to me. It had to be my own design and like no other that I had seen. I also did not want the fence to make it feel like a jail or a separate space from the rest of the backyard. I spent many hours working on the shape of the deck until I was sure that it was perfect. I think that the pool company didn't think that I would ever be ready to pour!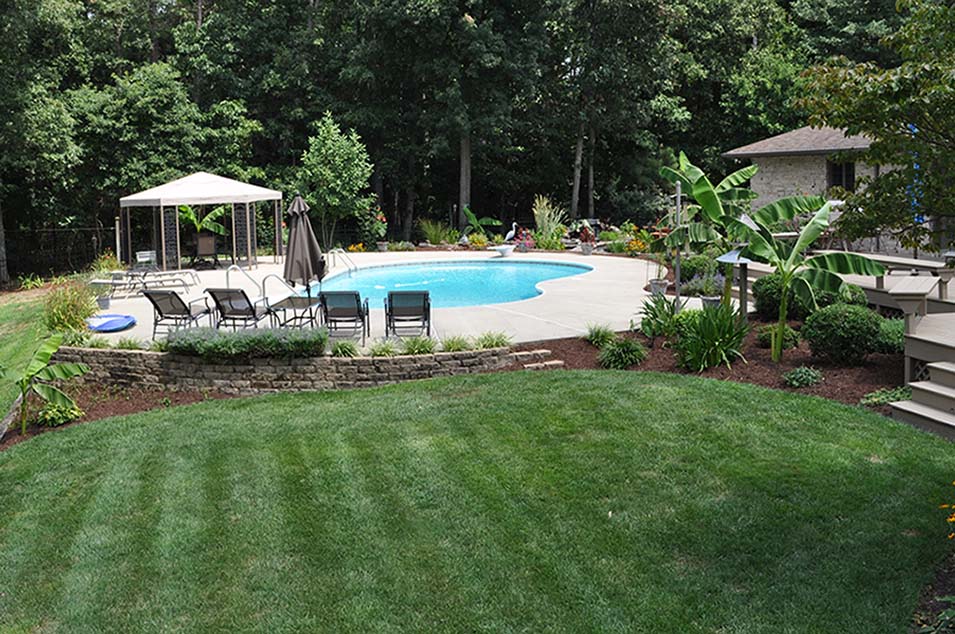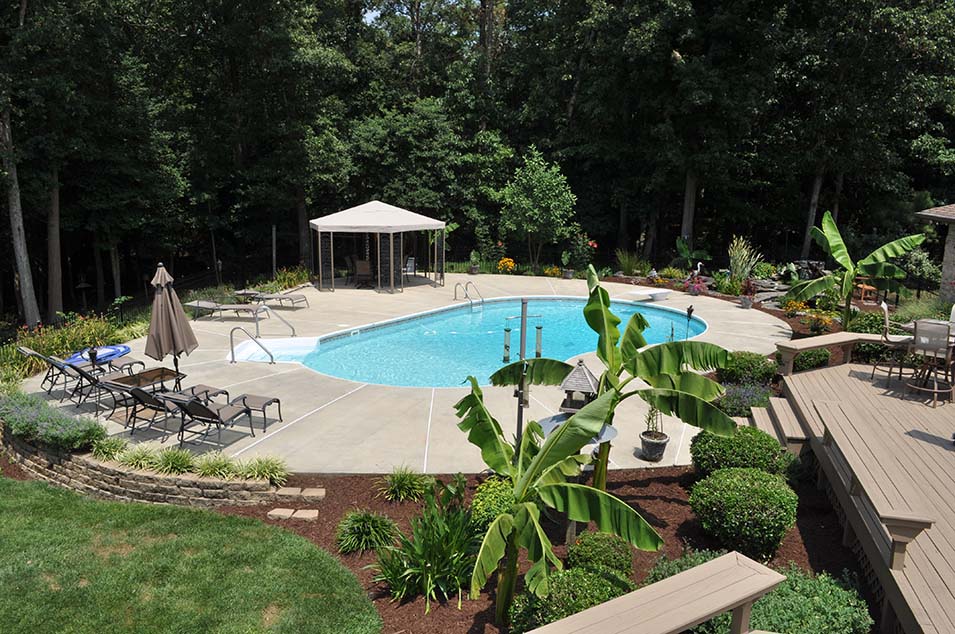 I find that the older I get the less I like "baking" myself in the sun. So we found this gazebo at Sam's Club of all places and it has been one of my favorite places to sit. We eat crabs in there, picnic lunches, barbecue dinners, or just sit in there and drink and relax!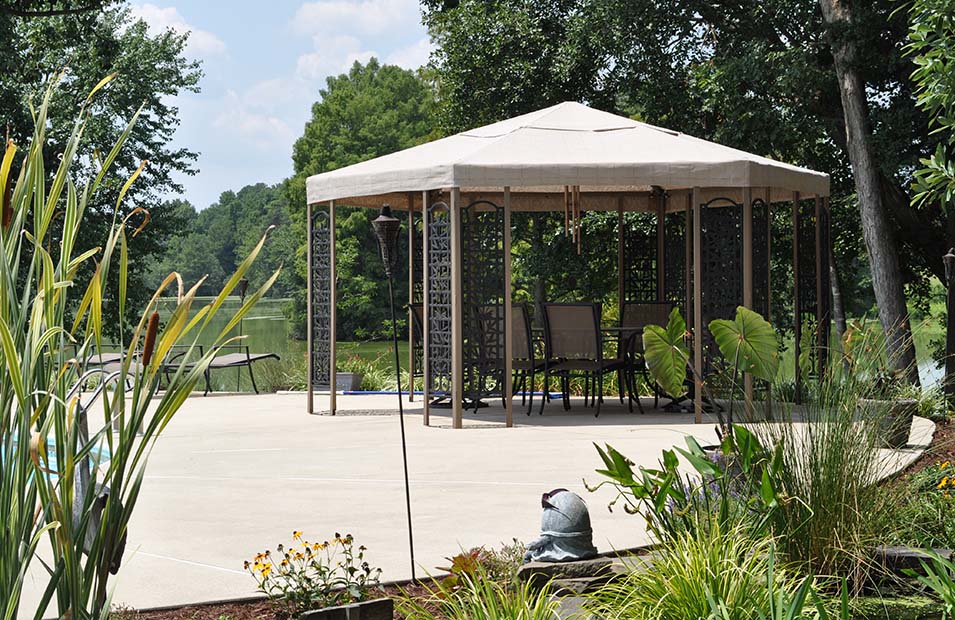 It doesn't matter where you sit you can always hear the waterfalls in the fish pond. That is one of the most relaxing parts of my backyard paradise!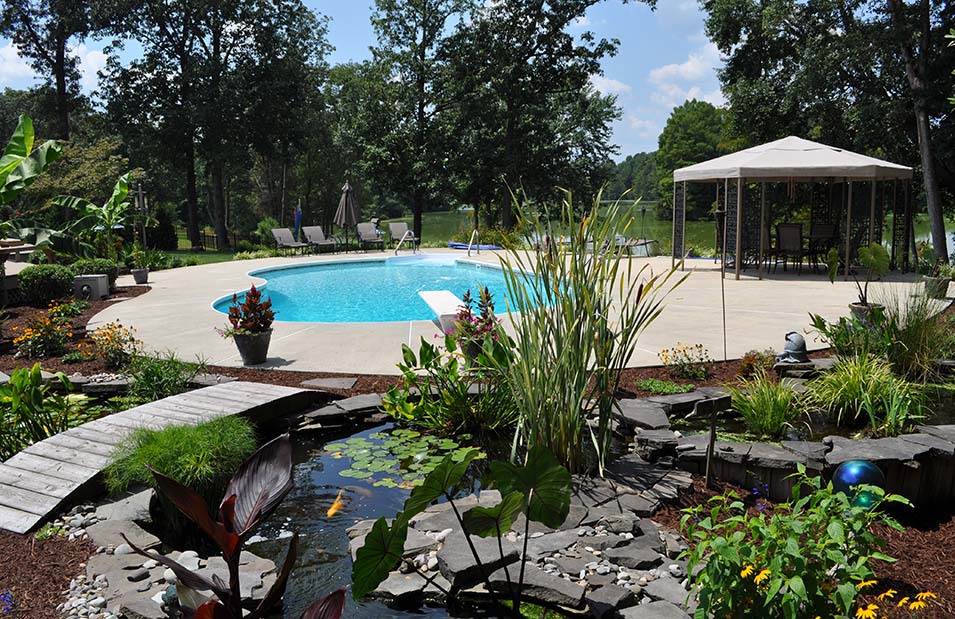 As I look at the big picture, it sure is busy back here! But then that's the way I wanted it.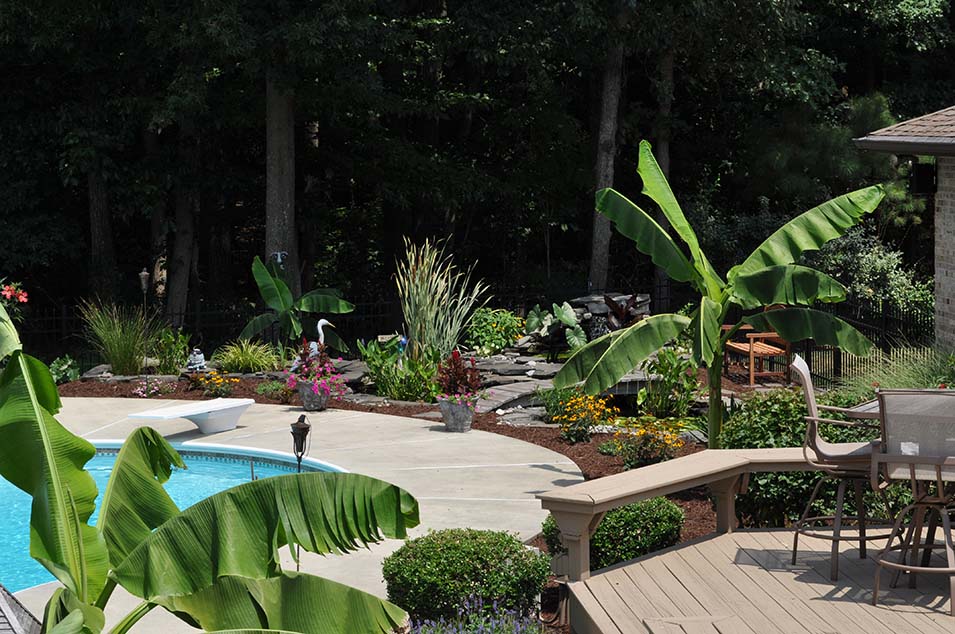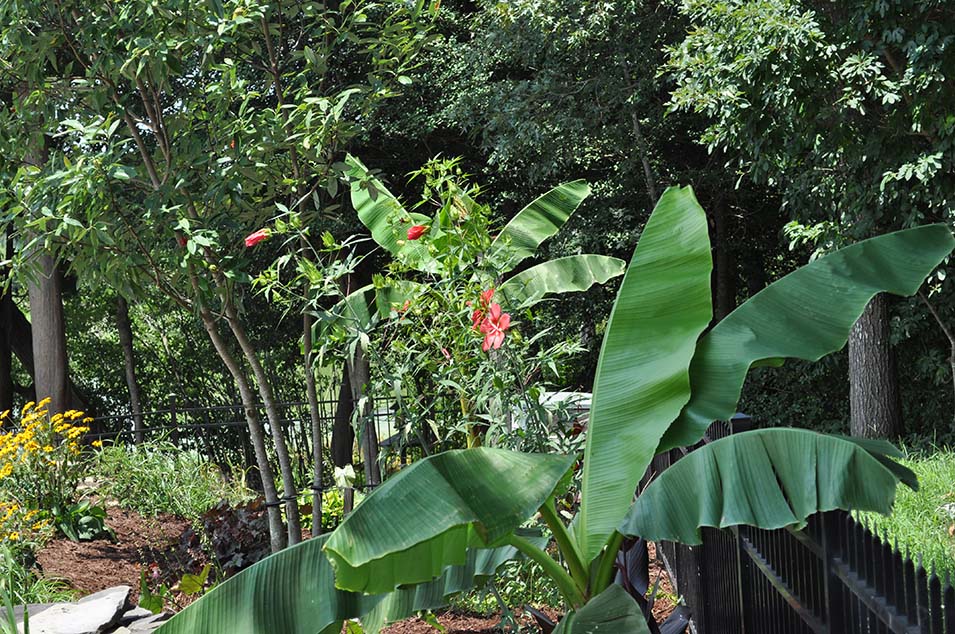 This is my favorite spot to just sit and have a morning coffee or an evening glass of wine. Obviously the sound of the water is VERY relaxing here.
I really shopped around to find the best price and quality for this bench. If you need accessories for your backyard paradise, check out Hayneedle !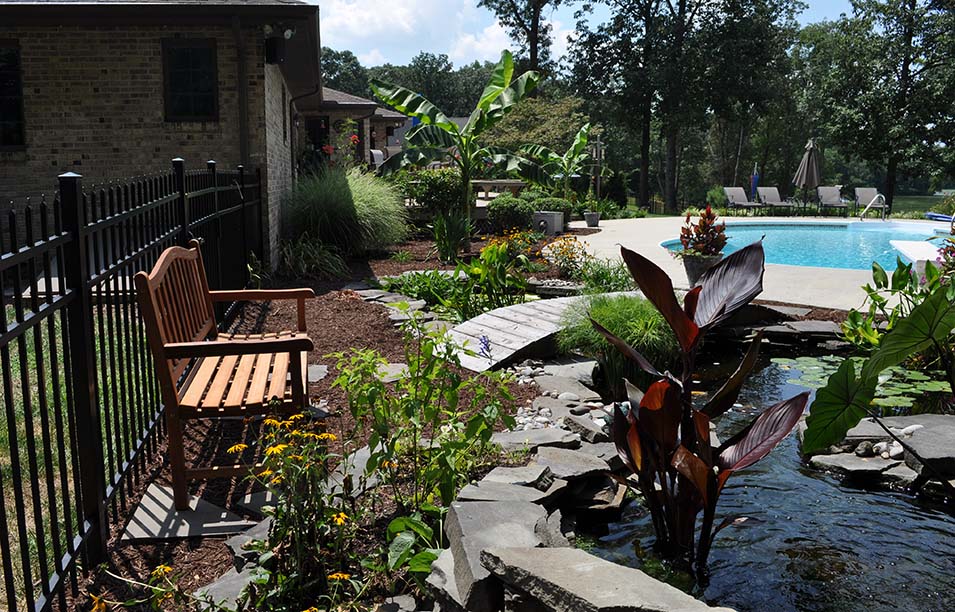 We have had the pool for 7 years and the fish pond for 6 years. But I still can't get used to the sound of the fish jumping! Some of the Koi are huge and when they get playing hard they jump way out of the water and make a very large splash. It can really catch you off guard when everything is so quiet!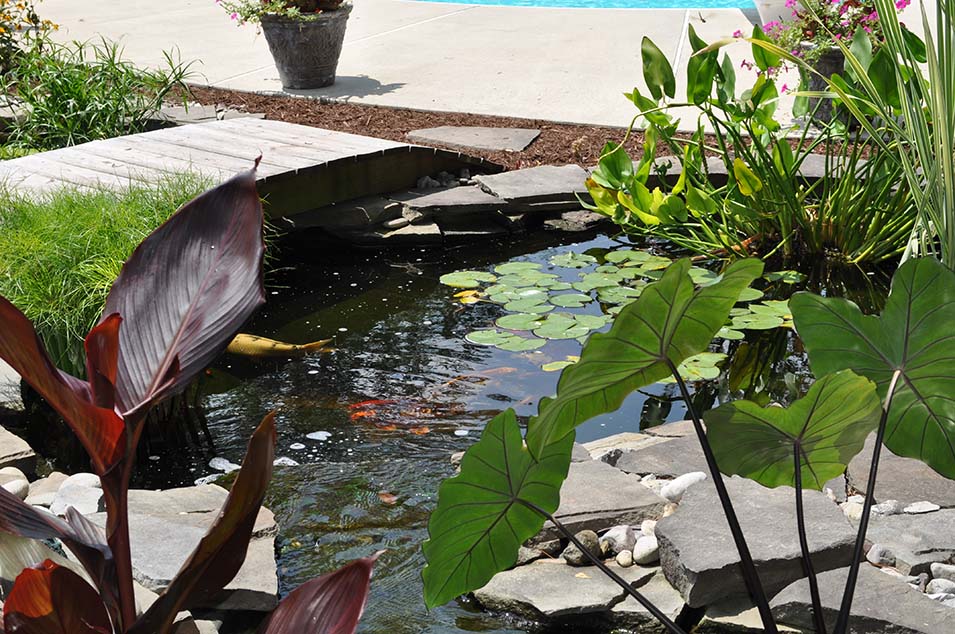 There are some areas that you have to careful in. We are fortunate in the fact that the Attack Duck stays outside of the fence most of the time.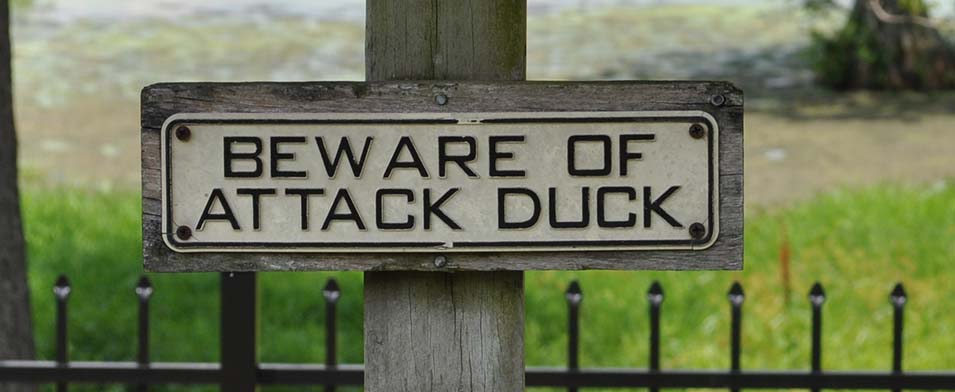 But you do have to be on the look out for the fish. We do not sit on the bridge and dangle our feet in the pond!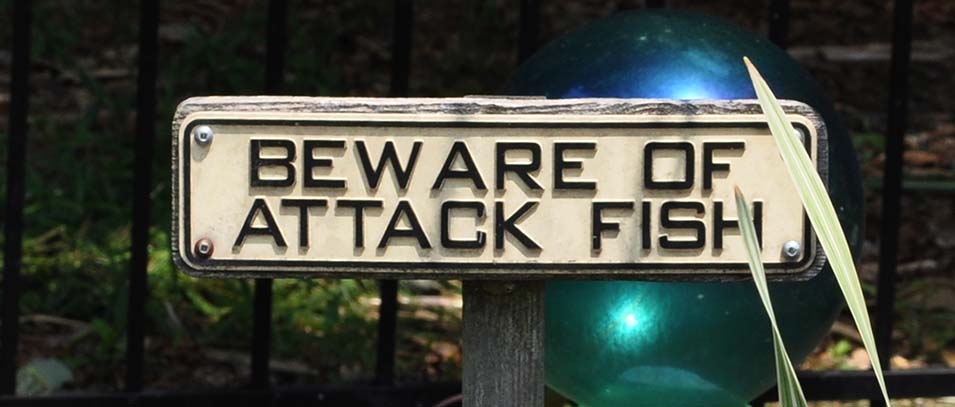 I hope that you have enjoyed the Summer Walkaround. I do love landscaping and the joy that it brings to our home. I also don't mind sharing it with you.